"Happiness is made from small moments of joy!" 
21 July 2022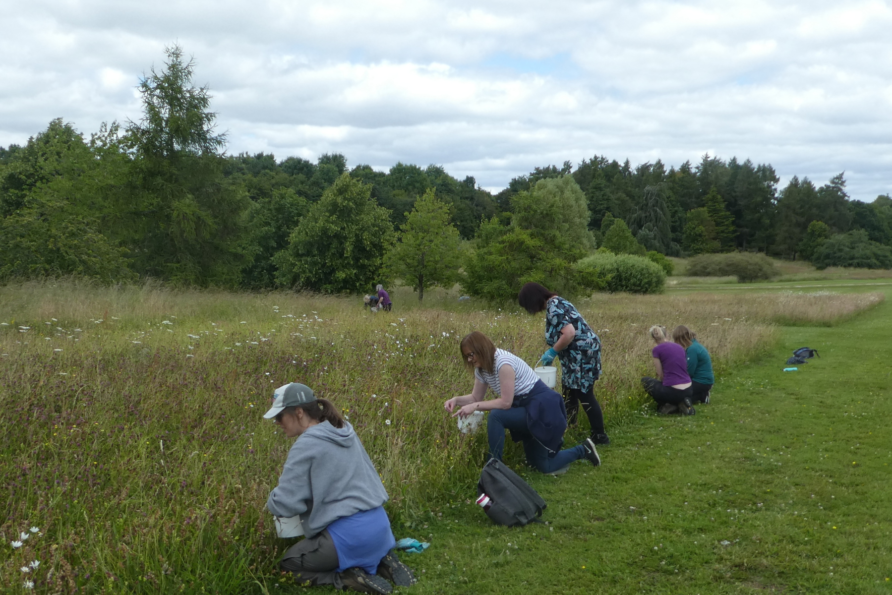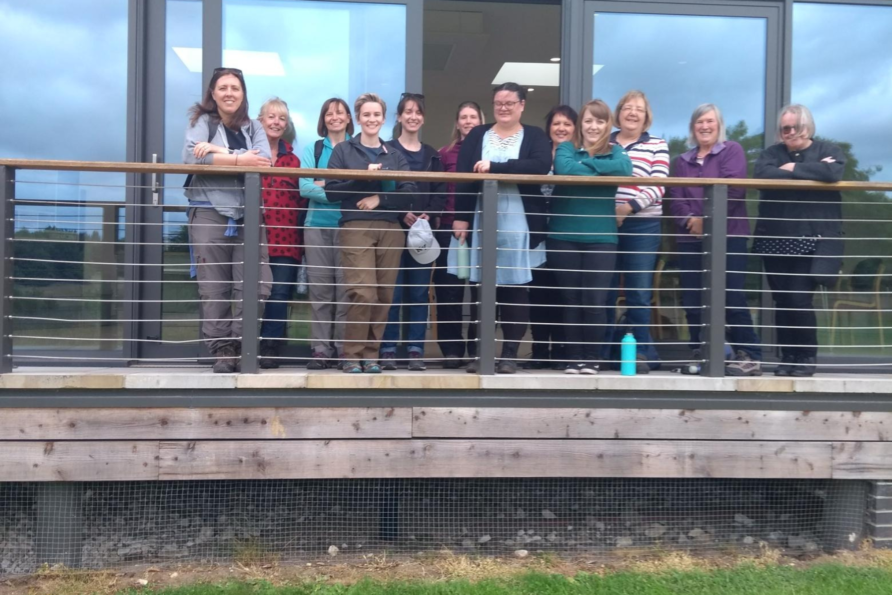 A blog about the impact of employer supported volunteering and the difference it can make to the people you work with.
Earlier this month the Community First Yorkshire team volunteered at the Yorkshire Arboretum. We interviewed our information officer, Stella Antoniou, who in work hours is found behind her computer not out in the wilds of Yorkshire!
Q: Where did you go?
A: We volunteered at the Yorkshire Arboretum, a stunning landscape of parkland, lakes and ponds, with a collection of more than 6,000 trees from around the world.
Q: What did you do?
A: The first half of the day we separated into two teams and our task included gathering yellow rattle seeds – believe me they truly seem like pop-corn! To tell you the truth, I have no idea which group gathered the most rattle seeds and I hope nobody tried to eat them! The second half of the day was focused on weeding and clearing growth from around young trees. I was Lizzie's chopping master assistant in removing grass around the trees. As far as I know I didn't uproot any tree and Lizzie can confirm this. The day rounded off with delicious coffee and cake at the Tree Health Centre.
Q: What did you enjoy most about the day?
A: That's so hard to answer! I simply loved the whole day. Everything was amazing, from enjoying the lovely weather to being among trees and lovely people, looking at the blue sky, and enjoying the smell of nature. And how can I forget the cakes we had at the end of the day? In a nutshell, it was a brilliant day outdoors, enjoying nature and having fun with colleagues. How rejuvenating! I also worked on my gardening skills, which are very close to zero!
Q: How does what you did, positively impact the charity?
A: Aesop's saying will summarise this: "No act of kindness, no matter how small, is ever wasted".
Volunteering has positive impact both for individuals and for the organisational culture as a whole. What we did at the volunteering day helped with acquiring and practicing new skills, reaching more beneficiaries, raising awareness about the organisation's profile, contributing to supporting others in the community, improving our health and wellbeing, raising awareness of volunteering, enhancing the recognition of the value that volunteers bring to the community, and setting the example of being environmental friendly.
So what we did at Yorkshire Arboretum was a breath of fresh air for Community First Yorkshire and a breath for nature as well! Even helping out with the smallest tasks can make a real difference to the community and the environment we live in!
Q: Why do you think it is a good idea to volunteer as a group or staff team?
A: There are so many benefits to think about when it comes to volunteering as group or staff team. It improves employees' health and wellbeing by decreasing their stress levels, it pulls together colleagues enabling them to bond and support each other, it gives the opportunity to practice important skills used in the workplace, such as teamwork and communication, and also helps the staff team to connect with the community and make it a better place.
Plus, happiness is made from small moments of joy we experience each day and it is those happy moments that we all remember. Next week or next year we might not remember a day working on our computers, but we will definitely remember the fun we had at the volunteering day.
Special thanks to Ben, Tim, John and everyone involved in organising and supporting us on the day from Yorkshire Arboretum. They gave us such a brilliant team volunteering day – Thank you!
Further information
The Chartered Institute of Personal Development have developed a guide to employer supported volunteering.
For support with everything volunteering please visit our website or contact volunteersupport@communityfirstyorkshire.org.uk