How can we create a better future for volunteering?
13 July 2023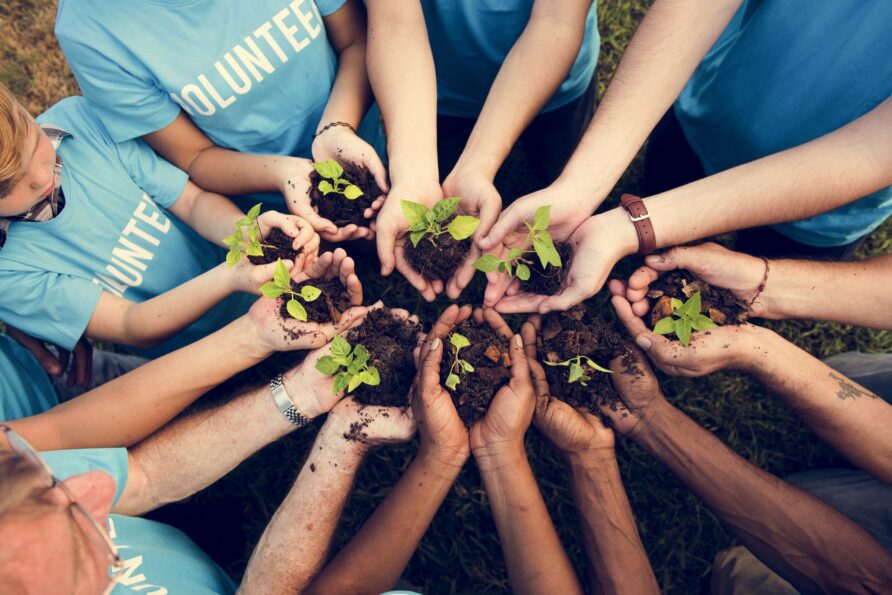 Our development officer, Lizzie Clapham, shares her thoughts on what the future looks like for volunteering.
What's the future for volunteering?
The volunteering landscape is constantly changing and adapting. We all know that volunteers are essential to maintaining our vibrant communities, and that volunteering offers individuals a wide range of benefits from developing new skills to improving social connections.
However, we are seeing that volunteers are becoming harder to recruit and retain.
A couple of weeks ago, I attended a Vision for Volunteering workshop. It was an insightful session which has caused me to put pen to paper today.
What is the vision?
The Vision explores what volunteering might look like by 2032. It recognises that volunteering, in its current form, isn't accessible or equally enjoyable for everyone; that there were changes in volunteering and activities during the pandemic -not all positive or permanent – and that there are changing patterns in who volunteers, how, and in what activities and roles. This is certainly evident in the latest NCVO Time Well Spent report – more of this later.
The Vision proposes five themes for the future of volunteering:
Awareness and appreciation – a future where a culture of volunteering is part of everyone's life and volunteer roles are given the recognition they deserve
Power – a future where volunteers (and the communities they serve) lead on change that matters to them
Equity and inclusion – a future where it's easy for people to give their time and energy to the causes they care about, they feel welcomed, and the benefits are equally distributed
Collaboration – a future where collaboration is natural and spontaneous, where people do great stuff together because they want to
Experimentation – a future where communities aren't afraid to try new things, and to develop their own, innovative solutions to engaging and supporting volunteers.
Workshop participants were asked 1) what they are currently doing that relates to each theme 2) if there are new or different things they would like to try and 3) if there are any support/training/resources that might be needed to achieve these.
It was evident that lots of people are already doing great things but there is still a way to go. The Vision team are now working on sharing stories, building networks, influencing, curating resources and exploring ideas. They are currently developing a toolkit offering a framework for starting conversations in communities.
If you would like to have a copy of the slides and jamboards from the workshop I attended, to prompt discussion in your own organisation, please get in touch by emailing volunteersupport@communityfirstyorkshire.org.uk. It will certainly be interesting to see how the Vision develops and is implemented, particularly given the findings from the latest NCVO Time Well Spent report which was launched earlier this week.
About Time Well Spent
Time Well Spent is NCVO's research programme focusing on people's experience of volunteering.. Time Well Spent 2023 surveyed 7,006 adults across the UK, and explored what volunteering, and the  volunteer experience, looks like now. The report findings showed that:
while volunteer satisfaction is high, it is lower than it was. Younger, public sector volunteers, and disabled volunteers continue to be less satisfied
Despite efforts around equity, diversity and inclusion in recent years, a lower proportion said they see volunteers from a wide range of backgrounds around them indicating an inequality in volunteer experiences
Remote and flexible volunteering is valued and increasingly common with those who volunteer remotely indicating they feel as satisfied, supported and connected as those who don't. Non-volunteers say flexibility is the factor most likely to encourage them to volunteer
Despite external changes, the core motivations for volunteering remain the same – wanting to improve things or help and making a difference are still the top reasons for starting volunteering
The financial impact of volunteering is increasingly seen as a barrier. 14% of non-volunteers say worries about being out of pocket is a reason for not volunteering, up from 5% in 2019
Wider data also suggests a decline in formal volunteering
The main reason people stop volunteering is having less time due to changing circumstances.
My main learnings from 'Time Well Spent'
I think my key take away from the report is that, while there are many things we can't influence, we can shape our volunteer experiences.
If we want to keep volunteers engaged, we need to be proactive and keep adapting to the inevitable changes that lie ahead, hopefully ensuring that volunteering continues to be time well spent.
Further information
Take a look at the Vision for Volunteering website where you can also sign up to their mailing list.
Twitter: @VisionForVol
Instagram: @VisionForVolunteering
Facebook: facebook.com/visionforvolunteering
LinkedIn: linkedin.com/company/vision-for-volunteering
Take at look at the NCVO Time Well Spent report here.
You may also be interested in the five key takeaways from Time Well Spent 2023 here and a recording of the Time Well Spent 2023 launch event.
How can we help?
At Community First Yorkshire we have a wide range of experience in supporting volunteering and volunteer involving organisations. From recruitment and induction to policies and practice, do get in touch with our development officers if you have a question.
You may like to join our Volunteer Cooridinators Network which meet regularly to share good practice and ideas.