How I became a trustee
31 October 2023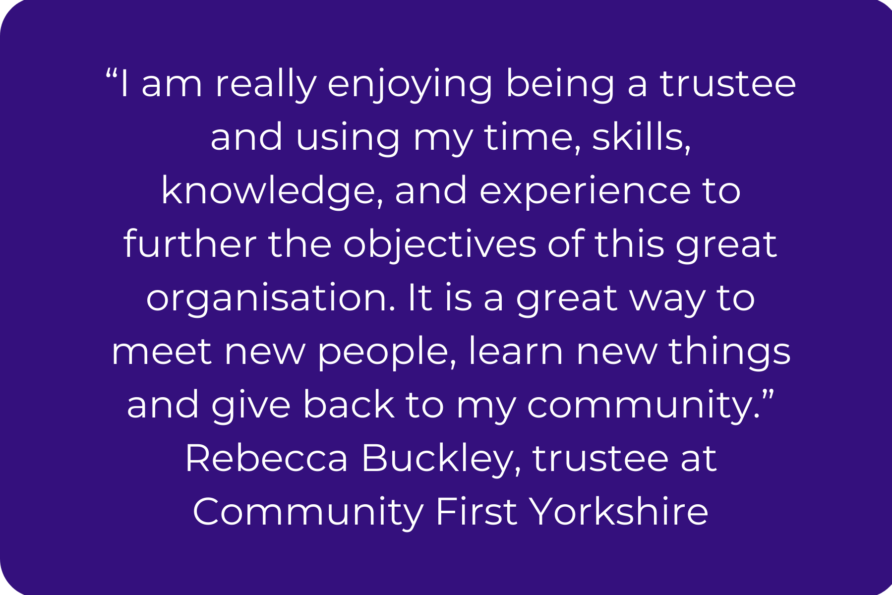 By Rebecca Buckley, trustee at Community First Yorkshire
I first came across Community First Yorkshire through my role as volunteer treasurer for a couple of local community groups, when I benefitted from the support of their Treasurers' Network. I was very impressed with the expertise of the Community First Yorkshire staff and their work to help voluntary groups be more effective and efficient. When I saw the advert for new trustees, I decided to apply as it was clear to me that Community First Yorkshire was a great organisation and one that I would be keen to help in the role of trustee. I was really impressed with the scope and scale of its activities and its role as a voice for the voluntary sector and rural communities.
The board of trustees are responsible for governing the charity and directing how it is managed and run. We must act in the charity's best interest, manage resources responsibly and ensure the charity complies with its governing document and the law. The trustees have a broad range of skills, experience, and perspectives which is very important in ensuring we carry out our duties effectively.
I am really enjoying being a trustee and using my time, skills, knowledge, and experience to further the objectives of this great organisation. It is a great way to meet new people, learn new things and give back to my community.
If you're looking for trustees and need help with finding them, check out our handy Trustee Recruitment Toolkit for tips.